Uncover Your Unique Family History!
"Discover How to Create Your Own Family Tree and Learn How to Preserve Priceless Information about Your Heritage!"
Anyone Can Use These Simple Techniques!
My Ancestry Guide will help you uncover a wealth of information about your family. Trace your family's roots and uncover delightful and surprising knowledge about yourself and your past! Learn how to collect, organize, and store information for the future, as well as other essential techniques to preserve everything you've learned!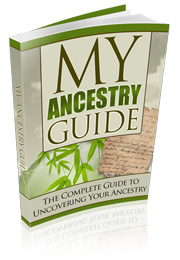 RE: Your Family's History
From: Jessica Carter

Dear Family Historian,
Uncovering the past is a huge challenge. Names and dates can be confusing, and the further back you go, the more difficult it becomes to establish reliable information that you can trust about your family's history. Knowing where to turn to for help is essential if you want to dig deeper than just one or two generations into the past.
When I first started my own family tree, I had a terrible time finding accurate information. Could I trust online genealogy sites? What about written records without any official verification? Sometimes it seemed like I had too many leads to find any credible information, and sometimes it seemed as though I had no leads to more information at all. Without being able to know what information I could trust, and what information should be put aside, I got hopelessly confused.
And then, to make matters worse, I had no effective means of organizing the information that I did have. What paper should I use? Did I need pens or pencils or was it better to try to print everything on the printer? And what to store the information in? Boxes, notebooks? I had a pile of tools, but no real information on how to use them. It started to turn into a giant mess and I felt as though all my searching wasn't coming up with anything useful at all.
What I Found Was A Way to Make Genealogy Research Easy! It Doesn't Matter How Much Experience You Have...
I was just about ready to give up on documenting my family's history. After all, it was so much work, I didn't think I'd ever manage to get it all organized into anything meaningful. I decided to give it one last try because I'd already gathered so many interesting stories that I hated to see it all abandoned.
Then, when I was looking for information about family trees and ways to document them, I came across this amazing guide. My Ancestry Guide: The Complete Guide to Uncovering Your Ancestry is an incredible read, filled with just the kind of information I'd been trying to find all along.
Imagine being able to pick the most promising leads to pursue, without having to worry that you'll hit a dead end right at the start. Imagine knowing exactly what information to look for, depending upon the age of the record and what it is you hope to find...
How much extra time could you devote to researching your family tree if you had a fool-proof way of organizing the information? One hour a week? Two hours? More? What if you could eliminate the uncertainty of knowing how to classify and categorize everything you've found?
Just imagine... when you know the right way to organize the records and put together your family tree, all the information will fall into place, revealing the full picture of your family's unique triumphs and challenges...
My Ancestry Guide will give you all this information and more! I was able to start getting my family's information organized right away. And by reading only a few chapters, I was better prepared to continue my search into details of my family's history that I might have overlooked before. The truly amazing thing about this guide... it gives all the information that you need to really dig and get the best result from your genealogy research.
This Handbook is THE Source for Genealogy Techniques and Tips! Incredible Information for Research of All Levels!!
It doesn't matter how long you've been researching your family's history! My Ancestry Guide: The Complete Guide to Uncovering Your Ancestry is just that: a complete guide that will take you, step-by-step through what you need to know to be a successful genealogist.
There is a wealth of information available to trace your family's history, both online and offline. How will you know which to choose? With the handbook as a guide it is made easy to understand what these documents will mean when putting the family tree together. This guide makes it simple to choose the most reputable sources, and to understand what you can expect when looking for documentation both online and offline. Knowing what information to trust and which information will have to be verified can save you countless hours of frustration.
One of the most helpful things about this e-book is that it gives the help needed when doing research on the popular data sites that have information, but not the clues to help know where to look for information. Data sites are terrific, they can mean finding information that might never have been found, but only when you know what to look for on them.
Whether you've been researching your family's history for a few days, a few months, or a few years, you'll find tips and information here that will help you in your search. You'll understand not only what sources are the best for your search, but what to look for specifically so that you don't waste time using the wrong resource for your specific needs.
Even as an experienced genealogist researching can hit the proverbial brick wall and this is where the handbook can be a life saver. This can remind someone with years of experience of the good research habits they have forgotten and the clues needed to find those lost ancestors. Even the female ancestor that married can be found using simple research methods or the ancestor that immigrated to America can be found.
Get ALL the Research Information You Need in an Easy to Follow Comprehensive Guide to Genealogy...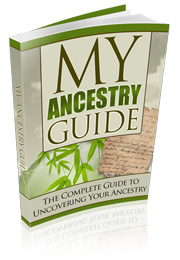 My Ancestry Guide: The Complete Guide to Uncovering Your Ancestry
You'll find the information and resources you need to find even the most elusive ancestor. Follow the trail of information and uncover the most likely places to look next as you expand your family's history.
Novice and experienced genealogists alike will find something worthwhile in this guide.
Just imagine being able to trace the history of individuals that you may not have even realized were a part of your family:
| | |
| --- | --- |
| | Learn where to look - a complete list of the most common places to start your search... and where to go when it's time to dig deeper. |
| | Finding reputable information - learn how to judge whether or not you need additional details to verify your family tree, and where to get those details |
| | Organize your family's history - all that knowledge is no good if you can't share it! This guide teaches you effective ways to organize and display all your hard work. |
| | Find relatives who are "under the radar" - uncover people in your past who may not have left behind information in the more typical manner. |
| | ....and much more! |
I've been studying my family's history for years, and I know how frustrating in can be when you almost have enough information to uncover a new branch in the family tree, but can't find any new leads. That's why I'm so excited to be able to share this guide with every new and experienced genealogist out there.
I know that this information can make a huge difference in the way you look for your past, and thousands of individuals are already using My Ancestry Guide: The Complete Guide to Uncovering Your Ancestry to make a real impact in the way they research their family's history.
You'll Be Amazed When You See How Truly Simple it is Use the Ancestry Guide!
"This is a great guide. Complete, thorough, and helps me stay organized!"

I was having so much trouble keeping all the records straight. We have a lot of similar names in my family and I was really getting bogged down. The tips in this guide are great. This is a great guide. Complete, thorough and helps me stay organized!

Samantha B.
Uncover the Riches of Your Family Tree: Order the Ancestry Guide Today!
"Delighted with the guide! I love how easy it is to use!"

Just wanted to drop you a line and say I'm delighted with the guide! I love how easy it is to use and I've been able to find a lot of info using the sources you listed. Thanks again!

Terri W.
Uncover the Riches of Your Family Tree: Order the Ancestry Guide Today!
"I almost made a huge mistake. Without your guide I could have lost my notes!"

I was taking notes in the traditional manner when I started out - just pen and paper. I stopped and started using your method once I got the guide. I almost made a huge mistake, so I'm so glad I bought this. Without your guide I could have lost my notes!

Krissy J.
FREE BONUS: Guides to Preserving Original Documents and Tips to Find Even More Ancestors!
Bonus 1: Preserving Documents & Photos

Say you've just uncovered a treasure trove of new photos or some old paperwork that is the perfect complement to your research...

But how to preserve it so that they are not further degraded with the passage of time? And what should you do to preserve your own documents so that do not age in the future?

This Bonus Guide teaches you how to:

| | |
| --- | --- |
| | Care for old photographs - learn the proper way to store and document old photos so that they last for years to come |
| | Care for old documents - find out how to handle these documents properly to ensure that they last |
| | Supplies for document preservation - know exactly what you'll need before you start working with older documents and photos |
| | Preserving current documentation - understand what you'll need to make your records accessible to your loved ones for years to come |
| | ... and much more! |
Uncover the Riches of Your Family Tree: Order the Ancestry Guide Today!
Bonus 2: More Tips on Finding Your Ancestors

Have an ancestor that moved across the country? How about relatives that were orphans or in other institutional facilities?

The truth is, these types of ancestors can be difficult to uncover without knowing exactly where to look.

This guide will give you a better chance of finding your lost ancestors no matter where they traveled in the past.

Here are just a few of the scenarios this bonus guide can help you with:

| | |
| --- | --- |
| | Finding relatives who moved - across the state or across the country, this guide will show you how to locate them |
| | Uncovering institutional records - have a family member who was an orphan? It's challenging, but we'll help you find out where and how to get the information. |
| | Dealing with sparse documentation - maybe you only have a vague idea of who you are looking for. We can help you find the most common records that can help your search |
| | ... and much more! |
I'm Making this Incredible Value Affordable for EVERYONE!!
That's right. I don't care about how much experience you have or how long you've been working on your family tree. I want everyone to have the chance to use this amazing guide to uncover more about their families. So I'm giving you the comprehensive ebook and the two mini-guides for an unbelievably low price of only $27.
Why so inexpensive? Two reasons: One, I believe that everyone should have the chance to explore their past and come face to face with the people who made us what we are today. Genealogy is the only way to make that possible. And Two: I don't think anyone should be blocked from knowing about his or her family based on a price-point. If the information is out there, I want to help you get it.
That said, I'm not sure how long I'll be able to afford to offer this guide for such a low price. I want to keep it available as long as possible, but I can't do that indefinitely. You'll need to act quickly if you want to take advantage of this price point.
Your Satisfaction is Guaranteed!
I offer a full 60-day guarantee, because I know that you'll find My Ancestry Guide: The Complete Guide to Uncovering Your Ancestry to be a huge asset to your research. You have absolutely nothing to lose, and everything to gain by making your purchase today. Get special pricing AND my iron-clad guarantee!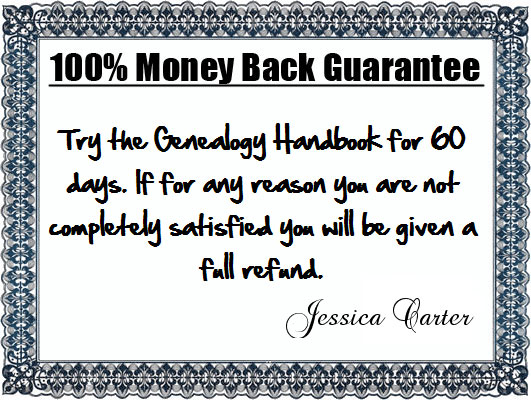 This special pricing may not last much longer, so if you want to get My Ancestry Guide: The Complete Guide to Uncovering Your Ancestry, do it today while this offer is still good!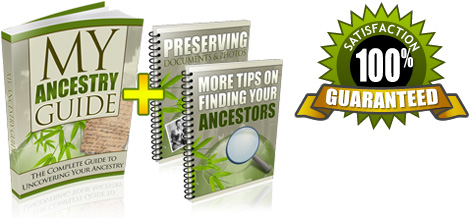 Regular Price $67
Today Only $27

Add To Cart


Clickbank sells our products - they are a trusted online retailer
that specializing in digitally delivered products

NOTE: My Ancestry Guide™ is a downloadable e-book. No physical products will be shipped. After you order, you will get INSTANT ACCESS to download the e-book and all the bonuses onto your computer. The e-book format is Adobe Acrobat PDF

, which can be viewed on Mac or PC.



Best of success,

Jessica Carter
P.S. I know how difficult it can be to stay focused and keep your research organized. Why not buy a guide to help you with this important and cherished task?
P.P.S. Remember, you have a full 60-days to evaluate the guide and use it however you like. Your satisfaction is guaranteed.
P.P.P.S. This is an incredible bargain, so don't wait: the sooner you act, the sooner you'll be able to get your genealogy research on the right track!
Risk Free Acceptance Form:
Yes, Jessica! I want...
... to take advantage of this incredible guide and get the information I need to uncover members of my family and fill out the branches of my family tree.
I understand that the special one-time offer of $27 includes not only My Ancestry Guide: The Complete Guide to Uncovering Your Ancestry, but also the two bonus guides that will help me to preserve documents and photos, as well as tips on finding lost ancestors.
I also understand that this special offer includes your iron-clad 60-day satisfaction guarantee, so I risk nothing by taking advantage of this incredible pricing.
I'm ready to take my genealogy research to the next level, so I'm ordering your guide right now!!
Uncover the Riches of Your Family Tree: Order My Ancestry Guide Today!
Earnings Disclaimer

EVERY EFFORT HAS BEEN MADE TO ACCURATELY REPRESENT THIS PRODUCT AND IT'S POTENTIAL. EVEN THOUGH THIS INDUSTRY IS ONE OF THE FEW WHERE ONE CAN WRITE THEIR OWN CHECK IN TERMS OF EARNINGS, THERE IS NO GUARANTEE THAT YOU WILL EARN ANY MONEY USING THE TECHNIQUES AND IDEAS IN THESE MATERIALS. EXAMPLES IN THESE MATERIALS ARE NOT TO BE INTERPRETED AS A PROMISE OR GUARANTEE OF EARNINGS. EARNING POTENTIAL IS ENTIRELY DEPENDENT ON THE PERSON USING OUR PRODUCT, IDEAS AND TECHNIQUES. WE DO NOT PURPORT THIS AS A "GET RICH SCHEME."

ANY CLAIMS MADE OF ACTUAL EARNINGS OR EXAMPLES OF ACTUAL RESULTS CAN BE VERIFIED UPON REQUEST. YOUR LEVEL OF SUCCESS IN ATTAINING THE RESULTS CLAIMED IN OUR MATERIALS DEPENDS ON THE TIME YOU DEVOTE TO THE PROGRAM, IDEAS AND TECHNIQUES MENTIONED, YOUR FINANCES, KNOWLEDGE AND VARIOUS SKILLS. SINCE THESE FACTORS DIFFER ACCORDING TO INDIVIDUALS, WE CANNOT GUARANTEE YOUR SUCCESS OR INCOME LEVEL. NOR ARE WE RESPONSIBLE FOR ANY OF YOUR ACTIONS.

MATERIALS IN OUR PRODUCT AND OUR WEBSITE MAY CONTAIN INFORMATION THAT INCLUDES OR IS BASED UPON FORWARD-LOOKING STATEMENTS WITHIN THE MEANING OF THE SECURITIES LITIGATION REFORM ACT OF 1995. FORWARD-LOOKING STATEMENTS GIVE OUR EXPECTATIONS OR FORECASTS OF FUTURE EVENTS. YOU CAN IDENTIFY THESE STATEMENTS BY THE FACT THAT THEY DO NOT RELATE STRICTLY TO HISTORICAL OR CURRENT FACTS. THEY USE WORDS SUCH AS "ANTICIPATE," "ESTIMATE," "EXPECT," "PROJECT," "INTEND," "PLAN," "BELIEVE," AND OTHER WORDS AND TERMS OF SIMILAR MEANING IN CONNECTION WITH A DESCRIPTION OF POTENTIAL EARNINGS OR FINANCIAL PERFORMANCE.

ANY AND ALL FORWARD LOOKING STATEMENTS HERE OR ON ANY OF OUR SALES MATERIAL ARE INTENDED TO EXPRESS OUR OPINION OF EARNINGS POTENTIAL. MANY FACTORS WILL BE IMPORTANT IN DETERMINING YOUR ACTUAL RESULTS AND NO GUARANTEES ARE MADE THAT YOU WILL ACHIEVE RESULTS SIMILAR TO OURS OR ANYBODY ELSES, IN FACT NO GUARANTEES ARE MADE THAT YOU WILL ACHIEVE ANY RESULTS FROM OUR IDEAS AND TECHNIQUES IN OUR MATERIAL.